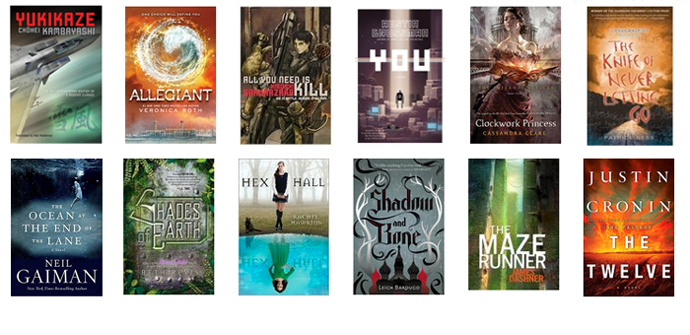 The one piece of writing advice you hear universally is, "if you intend to write, you must read."
This seems pretty obvious. Thankfully, I love to read, so it rarely feels like work. When I enjoy a book, I like to talk it up over on my YouTube channel.
This year I had a bit of a reading slump. I only finished twelve books. In previous years, my average is usually double that number.
So without further ado, here are the books I read in 2013 in order of when I finished reading.
The Twelve by Justin Cronin
The Maze Runner by James Dashner
Shadow and Bone by Leigh Bardugo
Hex Hall by Rachel Hawkins
Shades of Earth by Beth Revis
The Knife of Never Letting Go by Patrick Ness
Clockwork Princess by Cassandra Clare
You by Austin Grossman
All You Need is Kill by Hiroshi Sakurazaka
The Ocean at the End of the Lane by Neil Gaiman
Allegiant by Veronica Roth
Yukikaze by Chohei Kambayashi
So of the twelve books, nine belong to series. Of those nine, five were book one in the series, one was book two, and three were book three (and the final in the series).
I have three reading goals for 2014;
Read more books.
Specifically, read more science fiction.
Read fewer series and focus on one off books.
What was my favourite? Well, it's unfair to ask in a year where Neil Gaiman publishes a book. I didn't even bother to do a video for it because I knew I'd just be gushing the whole time.
Aside from that, All You Need Is Kill really entertained me and inspired me to search out more Japanese authors who have had their work translated.
So what did you read in 2013? Which entertained you the most? Which made the biggest impression on you (if different from the one that entertained)?