The power of the gods awakens in Gwynn Dormath. Now he must use those powers to survive the plotting of rival factions and an oncoming apocalyptic war.
Click on Each Cover Image to Learn More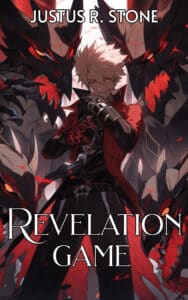 Tyler Drake uses video games as an escape. His latest obsession is the MMORPG Revelations, that lets players choose the side of Heaven or Hell in a war for the hearts and souls of humanity.
When events from the game appear to bleed into the real world, Tyler begins to question his gameplay decisions.
Because if the game is real, he has committed terrible evil.
And Hell owns his soul.
Purchase from Amazon: https://amzn.to/3nCPZOa
Purchase from Google: https://bit.ly/3LD8ppW
Purchase from Apple: https://apple.co/3VHG7iD