March 3rd
[one_third]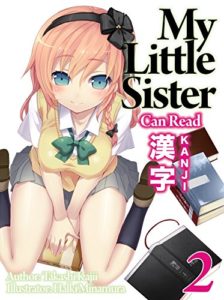 [/one_third]
[two_third_last]
My Little Sister Can Read Kanji: Volume 2
23rd century Japan… a land overflowing with moe, where little sister vs big sister vs childhood friend are the major questions of society… Or at least it was, until Gin and his sisters somehow changed the future! Now the prime minister is some old guy with glasses and all the signs are written in indecipherable kanji! This is bad! There's got to be some way to change the future back to the way it should be!
Purchase My Little Sister can Read Kanji Volume 2 http://amzn.to/2lwqzPw
[/two_third_last]
March 7th
[one_third]
[/one_third]
[two_third_last]
Naruto: Sasuke's Story: Sunrise
Sasuke, ally and friend to Naruto and brother to Itachi, hits the road to find the root of the evil Itachi faced in this sequel to Itachi's story.
A new series of prose novels, straight from the worldwide Naruto franchise. Naruto's allies and enemies take center stage in these fast-paced adventures, with each volume focusing on a particular clan mate, ally, team…or villain.
The Great Ninja War has ended, but to untangle the mystery that remains, Sasuke sets out on a journey—a journey that he hopes will allow him to atone for his sins. During his travels, those ninja faithful to the avenger Sasuke bring about tragedy. Meanwhile danger closes in on the villages of Konoha, Kiri, and Kumo, where red eyes burn with hatred. What is the future Sasuke stares down?
Purchase Naruto: Sasuke's Story http://amzn.to/2leP0OD
[/two_third_last]
March 15th
[one_third]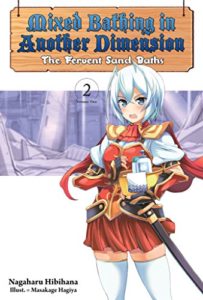 [/one_third]
[two_third_last]
Mixed Bathing in Another Dimension: Volume 2: The Fervent Sand Baths
Volume 2 of the series continues with the adventures in the desert!
Purchase Mixed Bathing in Another Dimension Volume 2 http://amzn.to/2ljXYKy
[/two_third_last]
March 17
[one_third]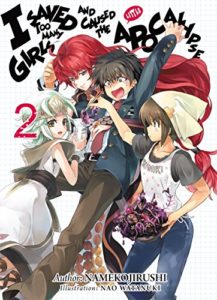 [/one_third]
[two_third_last]
I Saved Too Many Girls and Caused the Apocalypse: Volume 2
Rekka has somehow managed to survive that crazy day, and tries to settle down into a new daily life with Satsuki, Iris, and Harissa, but he doesn't even get a moment's chance to catch his breath! Yet again, he's thrown into stories where he has no choice but to rescue the damsel in distress, this time in a village closed off beneath the surface of the Earth!
Purchase I Saved Too Many Girls and Cause the Apocalypse Volume 2 http://amzn.to/2lentgw
[/two_third_last]
March 21st
[one_third]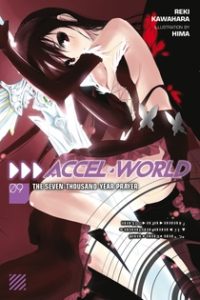 [/one_third]
[two_third_last]
Accel World Volume 9
"I will never forgive you. I will kill you. I will continue to kill you until all your Burst Points are gone and you vanish from the accelerated world."
Having turned into Chrome Disaster once more, Haruyuki slaughters with the force of a vengeful god the avatars who made Ash Roller suffer. And then he fuses completely with the Armor of Catastrophe, down to his deepest depths. Silver Crow soars above the accelerated world, seeking out enemies to destroy. For his next target, he turns the spearhead of his hatred toward the creators of the ISS kit, the Acceleration Research Society.
A berserker no one can control. Before this raging figure, a long avatar stands to block his way. His name: Green Grandé. The absolute defense of the Green King, bearer of the most powerful shield, the Strife, collides fiercely with the madness of the cursed avatar! The conclusion to the Armor of Catastrophe arc!
Purchase Accel World Volume 9 http://amzn.to/2l5fCAZ
[/two_third_last]
[one_third]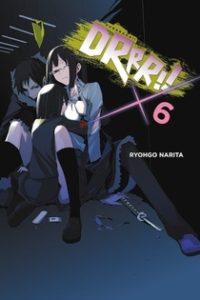 [/one_third]
[two_third_last]
Durarara!! Volume 6
After being framed by Izaya and forced to become fugitive on the run, Shizuo. Forced to rethink his position and circumstances, Mikado. Only now realizing the predicaments of his friends, Masaomi. Unaware of everything going on as she flees her house, Anri. Events going far beyond anything she could have imagined, Akane. Unable to conceal her excitement at coming into contact with the Black Rider, a girl. Continuing to wait anxiously at home, Shinra. Scheming so everything goes his way, Aoba. Working towards enacting his revenge on the Dollars, Chikage. And lastly, the person who will save the Headless Rider is–Ikebukuro is warping again today in the next installment of Durarara!!
Purchase Durarara!! Volume 6 http://amzn.to/2lwDdOq
[/two_third_last]
[one_third]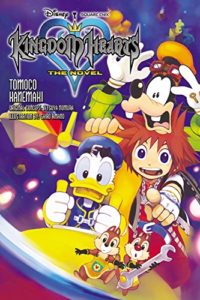 [/one_third]
[two_third_last]
Kingdom Hearts the Novel
On the Destiny Islands, three children–Sora, Riku, and Kairi–are living out their peaceful, carefree lives while yearning for whatever lies beyond the great ocean. But one night, an unexpected disaster takes place, and the three are torn from each other and their island home. Meanwhile, at Disney Castle, Donald Duck and the other castle residents are in an uproar upon discovering King Mickey has suddenly gone missing. When fate brings them together, Sora, Donald, and Goofy set out on a grand Disney adventure to find their friends!
Purchase Kingdom Hearts the Novel http://amzn.to/2mqAFyG
[/two_third_last]
[one_third]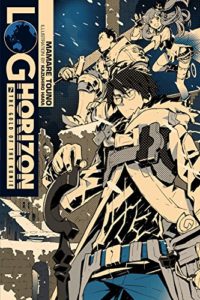 [/one_third]
[two_third_last]
Log Horizon Volume 7
Shiroe left Akiba in search of 8,000,000,000,000 gold coins, setting off for the vast north lands. But, what he found there was a warning of a large scale raid about to occur.
In Akiba's unstable situation, Shiroe's chosen raid members include the galactic idol Tetora, the leader of Silver Sword who refused to take part in the round table council, Massachusetts, and the man he defeated in Susukino who still hates him, Demiquas.
…Is everything really going to be alright?
Purchase Log Horizon Volume 7 http://amzn.to/2kS2gfW
[/two_third_last]
[one_third]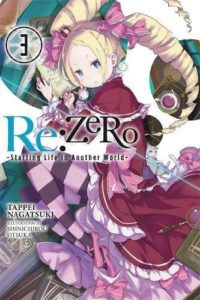 [/one_third]
[two_third_last]
Re:Zero Volume 3
–Let's get this story moving. Alongside the people most important to him, a boy goes out to meet the same sunrise once more. Strengthening his resolve, Subaru returns to his first day in the mansion. Repeating his loop in the Roswaal household armed with his memories, Subaru attempts to only make the optimal decisions to avoid another tragedy, but his fear and obsession with evading death and failure are slowly warping him. While Subaru slowly falls apart trying to save everyone…who will save Subaru…?
Purchase Re:Zero Volume 3 http://amzn.to/2mcUIEL
[/two_third_last]
March 23rd
[one_third]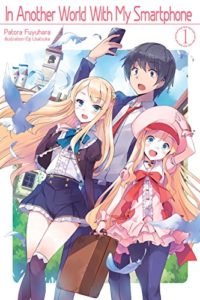 [/one_third]
[two_third_last]
In Another World With My Smartphone: Volume 1
After a freak accident involving some lightning winds up zapping him dead, 15-year-old Mochizuki Touya wakes up to find himself face-to-face with God. "I am afraid to say that I have made a bit of a blunder…" laments the old coot. But all is not lost! God says that he can reincarnate Touya into a world of fantasy, and as a bonus, he gets to bring his smartphone along with! So begins Touya's adventure in a new, anachronistic pseudo-medieval world. Friends! Laughs! Tears! Inexplicable Deus ex Machina! He sets off on a journey full of wonder as he absentmindedly travels from place to place, following whatever goal catches his fancy. The curtains lift on an epic tale of swords, sorcery, and smartphone apps!
Purchase In Another World With My Smartphone Volume 1 http://amzn.to/2mcEloU
[/two_third_last]