So instead of just posting my weekly light novel reviews, I thought I'd also begin a regular series detailing the light novel releases for each month. These are of official English releases of light novels licensed from Japan.
[full_width]
November 1, 2016
[/full_width]
[one_half]
Naruto: Itachi's Story, Vol. 1: Daylight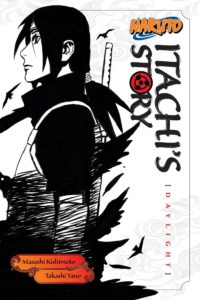 A new series of prose novels, straight from the worldwide Naruto franchise. Naruto's allies and enemies take center stage in these fast-paced adventures, with each volume focusing on a particular clan mate, ally, team…or villain.
Uchiha Itachi, four years of age. With the hell of war burned into his eyes, the boy makes a resolution: he will rid this world of all violence. The birth of Sasuke, meeting his friend Shisui, the academy, genin, chunin, and then the Anbu—Itachi races down the path of glory toward his dream of becoming the first Uchiha Hokage, unaware of the darkness that lies ahead…
Purchase Itachi's Story Vol. 1 from Amazon.com
[/one_half]
[one_half_last]
Is It Wrong to Try to Pick Up Girls in a Dungeon? Sword Oratoria, Vol. 1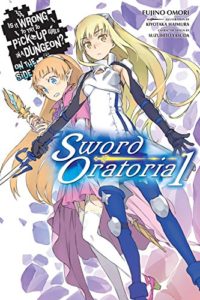 Aiz Wallenstein, the Sword Princess, is known as one of the most powerful warriors from one of the most powerful groups in the city of Orario: Loki Familia. With them, she ventures into the deepest parts of the labyrinthine Dungeon beneath the city, stalking the monstrous denizens that lurk there and vanquishing them with the blazing light of her sword. But when she meets a certain white-haired boy, the encounter will change both of them forever…
Purchase Sword Oratoria Vol. 1 from Amazon.com
[/one_half_last]
[full_width]
November 8, 2016
[/full_width]
[one_half]
Seraph of the End: Guren Ichinose: Catastrophe at Sixteen Volume 3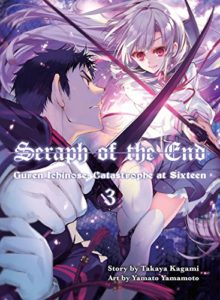 Not only Guren but his closest allies among the Imperial Demons have accepted forbidden power, and the merciless Hiragi Clan orders them to go after its once-favorite but treacherous daughter Mahiru. The vampires, however, are ready to show that no human faction stands a chance against them.
Christmas is finally here, an apocalyptic time of year for all good boys and girls.
Purchase Seraph of the End Vol. 3 from Amazon.com
[/one_half]
[one_half_last][/one_half_last]
[full_width]
November 15, 2016
[/full_width]
[one_half]
A Certain Magical Index, Vol. 9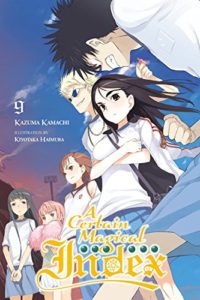 The Daihasei Festival–a huge athletics festival attended by every school in Academy City, where the superpowered students attending these institutions gather to compete in a wide variety of competitions. And of course, Touma Kamijou is participating. His terrible luck is still in full effect–he's gnawed on by a famished Index, castigated by a representative of the festival management committee, and zapped mid-competition by none other than Mikoto Misaka. But Academy city's about to have a much bigger problem–and her name is Oriana Thomson.
Purchase A Certain Magical Index Vol. 9 from Amazon.com
[/one_half]
[one_half_last]
Durarara!!, Vol. 5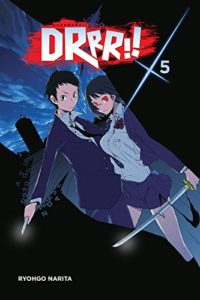 Ikebukuro, Tokyo. All kinds of people are showing up to settle their scores with Izaya Orihara the information broker. A pair of foreigners who specialize in odd jobs. A runaway girl still looking for her Shizuo. A fellow dressed like a bartender who looks like he's had better days. A womanizer set on getting his revenge against the Dollars. An underground doctor waiting for someone to come home. A class representative with a clueless classmate pal and a target on his back. And a headless rider who can't help getting sucked into trouble. Question is, is this spring break something special, or is this just business as usual in Ikebukuro?
Purchase Durarara!! Vol. 5 from Amazon.com
[/one_half_last]
[one_half]
Log Horizon, Vol. 6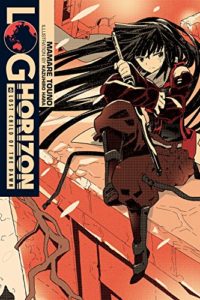 The unthinkable has happened–murder in the city of Akiba. The Libra Festival's events have left Akatsuki dispirited. Despairing and confused, she wanders the city in search of the murderer and a chance to gain the power and recognition she craves–but feelings alone will not be enough. A new chapter in the Log Horizon epic begins!
Purchase Log Horizon Vol. 6 from Amazon.com
[/one_half]
[one_half_last]
Re:ZERO, Vol. 2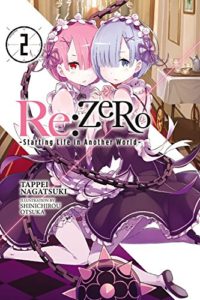 Breaking free of his death loop in the royal city, Subaru awakes in an opulent mansion, being tended to by the twin maids Ram and Rem. After sustaining terrible injuries, he has been taken to the home of the Margrave Roswaal, Emilia's guardian. The two maids, along with the young librarian Beatrice, are the sole guardians of the mansion's forbidden library, but their quiet, peaceful days come to a violent end when another cycle of death begins! Subaru is the only one who remembers the time he's spent with the people he cares about, but will he be able to save them?
Purchase Re:Zero Vol. 2 from Amazon.com
[/one_half_last]
[one_half]
Legend of the Galactic Heroes, Vol. 3: Endurance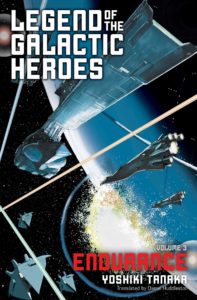 It's the master tactician of the ruthless Galactic Empire versus the Free Planets Alliance in Japan's greatest space opera epic!
In the thirty-sixth century, humanity has conquered the galaxy and colonized countless star systems. The Galactic Empire, modeled along Prussian lines, and the democratic Free Planets Alliance are at war, and the fate of every human being in the universe hangs in the balance. This classic Japanese space opera, adapted into a legendary anime, is finally available in English for the first time.
A grand scheme for retaking Iserlohn is delivered to Reinhard, who with renewed determination seeks to become ruler of the galaxy and to fulfill the oath he made with a dear, departed friend. But what are the aims of Phezzan, the third force at work behind the scenes? Meanwhile, no sooner is Yang breathing a sigh of relief when Julian returns from his first combat mission than he is summoned to an inquest and departs for the capital of the alliance. As if waiting for this opportunity to strike, however, the imperial military's fortress appears right at the gates of Iserlohn. The battle between two gigantic fortresses begins!
Purchase Legend of Galactic Heroes Vol. 3 from Amazon.com
[/one_half]
[one_half_last][/one_half_last]
[full_width]
November 22, 2016
[/full_width]
[one_half]
The Isolator, Vol. 3: The Trancer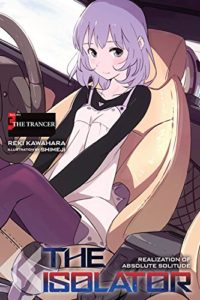 Having successfully helped destroy two of the evil Ruby Eyes, Minoru, the Isolator, is recruited by the Syndicate, a secret organization dedicated to their eradication. He teams up with Suu Komura, the Refractor, a young girl said to be the Syndicate's most powerful member, to attack a secret stronghold of the Ruby Eyes. Their target is the most fearsome opponent they've ever faced: the Liquidizer, but their enemy is not what they expected…
Purchase The Isolator Vol. 3 from Amazon.com
[/one_half]
[one_half_last]
The Rising of the Shield Hero Volume 06
After their battle with Glass, Naofumi and the other heroes have a meeting with the queen and Naofumi is shocked to learn about the seven star heroes. Still reeling from this revelation, more drama unfolds on the islands before Naofumi and his party can return to Melromarc. He meets Rishia, who is betrayed by Itsuki and his party members. Naofumi sympathizes with her and invites her to join his party. Eventually, Naofumi discovers that she has a talent for magic, but before they can develop her powers, they are needed elsewhere. A massive monster bearing the appearance of a giant tortoise must be defeated. The monster is so powerful that even the mightiest adventurers cannot defeat him―so what hope is there for Naofumi?
Purchase The Rising of the Shield Hero Vol. 6 from Amazon.com
[/one_half_last]