We have a ton of light novels releasing in the month of June. Including the release of Grimgar of Fantasy and Ash in physical form, there are nineteen light novel releases this month!
June 3
[one_third]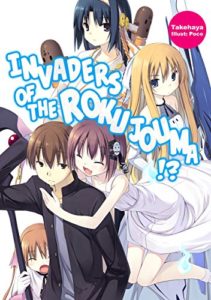 [/one_third]
[two_third_last]
Invaders of the Rokujouma!?: Volume 1-3
Just starting high school, Koutarou is moving out on his own to take some of the burden off of his widower father. Lucky for him, he's found a room at Corona House. It has a great landlord, it's not too far from school, and best of all, it's dirt cheap. It really is perfect… except for the strange girls that keep appearing to try and take it over! But even as room 106 turns into a battlefield, Koutarou isn't willing to give up his apartment without a good fight. The invasion begins!
Purchase Volume 1 – http://amzn.to/2pheA6R
Purchase Volume 2 – http://amzn.to/2plzIJU
Purchase Volume 3 – http://amzn.to/2qO4qMb
[/two_third_last]
June 6
[one_third]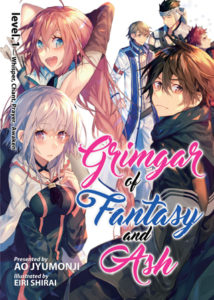 [/one_third]
[two_third_last]
Grimgar of Fantasy & Ash Volume 1 – Physical Release!
The light novel fantasy epic that inspired a critically-acclaimed anime!
Haruhiro awakens to darkness and amnesia, among a group of strangers who can only remember their own names…and nothing else. When they make it into the light, they discover Grimgar―a fantasy world that's like something out of an RPG game. Without apparent skills or knowledge of their surroundings, Haruhiro and his newfound friends band together to form an adventuring party. Only by cooperating, using their wits, and learning new skills can they hope to survive in this dangerous land of monsters and magic.
Purchase – http://amzn.to/2oWjj0L
[/two_third_last]
June 10
[one_third]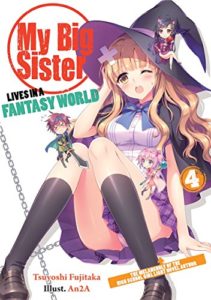 [/one_third]
[two_third_last]
My Big Sister Lives in a Fantasy World Volume 4
Yuichi's not-very-restful summer vacation came to an end, and the new school term isn't looking much better. Immortal demons are trying to kill him, his new teacher is a superpowered sociopath, and all kinds of bizarre events are happening around the school. What does Kanako's new novel have to do with the bizarre goings on at Seishin High? Once again, it's up to the world's strongest little brother, and his highly delusional sister, to find out!
Purchase – http://amzn.to/2pqsVm2
[/two_third_last]
June 14
[one_third]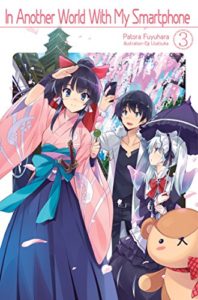 [/one_third]
[two_third_last]
In Another World with My Smartphone Volume 3
Stalwart as ever, 16-year-old Mochizuki Touya heads off to the far eastern land of Eashen with his party in tow. For what purpose? The Matriarch of the Fairy Clan wishes to delve into some ancient ruins, of course! But it's never quite that simple for Touya and his friends, oh no. The party is thrust into the midst of a clash between the warlords Takeda Schingen and Tokugawa Ieyahsu, while a nefarious necromancer makes his move in the shadows…
Purchase – http://amzn.to/2qWxpkY
[/two_third_last]
[one_third]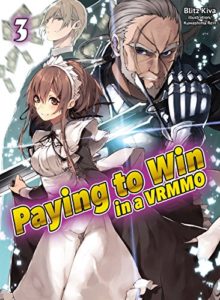 [/one_third]
[two_third_last]
Paying to Win in a VRMMO Volume 3
Fabulously wealthy whale Ichiro Tsuwabuki has little interest in romance, but that won't stop the mysterious Nem from going all-out in a VRMMO battle for his indifferent heart. She makes her move while Ichiro is off indulging in a meeting with the game's genius developer, recruiting some of the VRMMO's most unsavory avatars to help her put pressure on her foremost rival, Iris. With Ichiro and his bottomless pocketbook tied up elsewhere, it's up to the ever-loyal Kirschwasser to hold the line and save their crafting guild's most valuable player!
Purchase – http://amzn.to/2qw1R4k
[/two_third_last]
June 20
[one_third]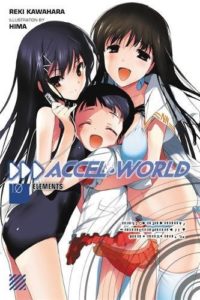 [/one_third]
[two_third_last]
Accel World Volume 10
"The Sound of Water on a Distant Day"
2046. Haruyuki, a.k.a Silver Crow, member of the reborn Nega Nebulus, makes a certain blunder and sees a sudden, precipitous drop in Burst Points. Given that he is backed up against the wall, Takumu suggests he hire an Accelerated World "bouncer."
Spring 2047. Haruyuki is plunged into an unprecedented crisis due to the machinations of new student Seiji Nomi. At the same time in Okinawa on a school trip, Kuroyukihime is set up for a "duel" by a strange Burst Linker.
Purchase – http://amzn.to/2pqBOvQ
[/two_third_last]
[one_third]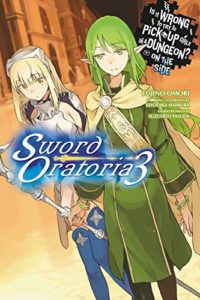 [/one_third]
[two_third_last]
Is it Wrong to Try to Pick Up Girls in a Dungeon? On the Side: Sword Oratoria Volume 3
After the tumultuous events in the Dungeon, Aiz has finally reached the vaulted Level 6! But in spite of this amazing news, the Sword Princess seems to be completely depressed. There are two reasons.
The first is that she finally managed to meet the white-haired boy again, but once more, he ran away from her with everything he had. The second is that the monster tamer she fought so hard against knew her name–a name that absolutely no one else should know, and yet…
Meanwhile, from the depths of the Dungeon comes a mysterious crystal ball that's about to plunge both underground and surface worlds quietly into chaos!
Purchase – http://amzn.to/2pTAbUH
[/two_third_last]
[one_third]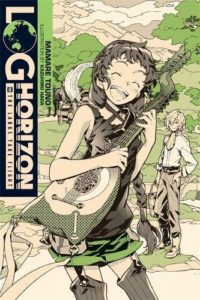 [/one_third]
[two_third_last]
Log Horizon Volume 8
For the sake of obtaining their very own Magic Bags, Touya, Minori, Serara, Isuzu, and Rundelhous all set off on their very first journey as a five-member party! Their quest to find the materials soon becomes a crosscountry musical tour, as they find themselves performing live events in all the towns and villages they come across!
On their journey they meet a daylight hating vampire, a People of the Land scribe, and a band of fanatics who believe they've unlocked the secret to returning to the real world–
This is their first real adventure alone, without any supervision and no one to bail them out, but will they really be safe in this world that's more dangerous than it seems??
Purchase – http://amzn.to/2oiPdG2
[/two_third_last]
[one_third]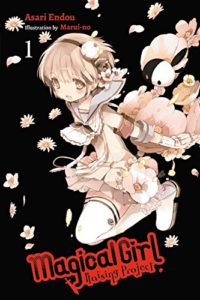 [/one_third]
[two_third_last]
Magical Girl Raising Project Volume 1
The hit social network game "The Magical Girl Raising Project" selects one out of every tens of thousands of players to become a real life magical girl. The lucky chosen girls gain magic powers as well as incredibly good fortune, and spend their days blissfully.
But one day, an absolute announcement declares that the number of magical girls has risen too high and must be cut down to half. Sixteen young maidens are thrust into a merciless, deadly contest to survive…but how many will come out the other side?
Purchase – http://amzn.to/2oiSEg6
[/two_third_last]
[one_third]
[/one_third]
[two_third_last]
Psycome Volume 4
Just before the start of summer break, Kyousuke is summoned to Eiri's home. Academy administration readily approves the trip, and he heads home with Eiri! They thought it would just be the two of them, but Renko and Ayaka, after winning parole with their exam scores, decide to tag along. Since the Akabane are a family of assassins, Kyousuke is, to be honest, more than a little uneasy. But they are met with an unbelievably warm reception at House Akabane. Even as the others appreciate the pleasant atmosphere, Eiri is sullen the whole time… The sweet, summery fourth installment of the hardcore love comedy where the more he loves, the more dangerous it becomes. LOVE=KILL!
Purchase – http://amzn.to/2q4of1A
[/two_third_last]
[one_third]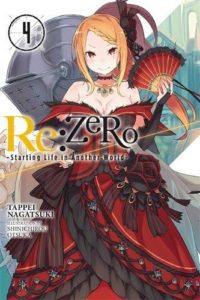 [/one_third]
[two_third_last]
Re:Zero Volume 4
After escaping the deadly time loop of the manor, Subaru can finally enjoy a brief respite. But after a visit from the king's messenger, he returns with Emilia to the royal capital, where it all began. As he reunites with his friends, Subaru gears up to help Emilia become the next monarch, but Emilia herself stubbornly refuses his assistance…
Purchase – http://amzn.to/2pqJmib
[/two_third_last]
[one_third]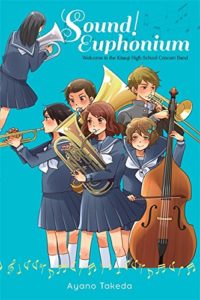 [/one_third]
[two_third_last]
Sound! Euphonium
After a terrible experience in her past at the National Music Band Competition, Kumiko abandoned music once and for all. She starts her first year at Kitauji High School, she finds herself being roped back in. But their school's band is hopeless. There was a time where they had placed well in nationals, but now they can't even make it past their regional qualifiers. In the midst of all of this, Kumiko meets the last person she'd ever want to see again, Reina. Will Kitauji High manage to pull itself together with the day of the concert drawing ever closer?!
Purchase – http://amzn.to/2pUiqHu
[/two_third_last]
[one_third]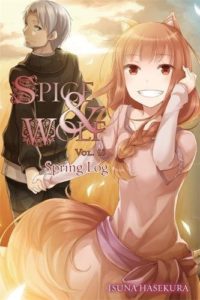 [/one_third]
[two_third_last]
Spice and Wolf, Vol. 18: Spring Log
The long-awaited continuation of the tale of Holo the Wise Wolf and the merchant Lawrence! Over ten years after Holo and Lawrence open "Bathhouse Spice and Wolf" in Nyohhira, the two climb up the mountain in order to help at the festival in Sverner. But Lawrence has an additional objective: to find more information about a new hot spring town near Nyohhira…
Purchase – http://amzn.to/2rjdInk
[/two_third_last]
[one_third]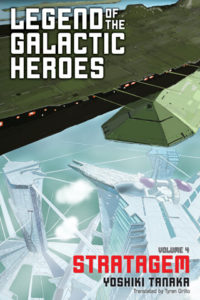 [/one_third]
[two_third_last]
Legend of Galactic Heroes Volume 4
It's the Galactic Empire versus the Free Planets Alliance in Japan's greatest space opera epic!
In the thirty-sixth century humanity has conquered the galaxy and colonized countless star systems. The Galactic Empire, modeled along Prussian lines, and the democratic Free Planets Alliance are at war, and the fate of every human being in the universe hangs in the balance. This classic Japanese space opera, adapted into a legendary anime, is finally available in English for the first time.
Remnants of the high nobility, manipulated by the "third power" of Phezzan, abduct the seven-year-old emperor and, with the cooperation of the Free Planets Alliance, declare the establishment of a traditional imperial government. Reinhard, however, has turned the tables by making a secret pact with Phezzan's high officials and plans a grand invasion of the alliance by way of the Phezzan Corridor. So begins an epic battle between Yang—who, despite surmising Reinhard's true intentions, must defend Iserlohn—and the Imperial Navy's peerless fighter, von Reuentahl.
Purchase – http://amzn.to/2q4lKMz
[/two_third_last]
[one_third]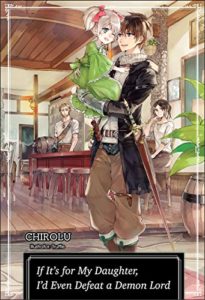 [/one_third]
[two_third_last]
If It's for My Daughter, I'd Even Defeat a Demon Lord: Volume 1
Dale is a cool, composed, and highly skilled adventurer who's made quite a name for himself despite his youth. One day on a job deep in the forest, he comes across a little devil girl who's almost wasted away. Unable to just leave her there to die, Dale takes her home and becomes her adoptive father.
Devil or not, Latina is beyond adorable, and the adventurer soon finds himself head over heels with being a parent. But why was she out in the forest to begin with, and why does she carry the mark of a criminal?
Purchase – http://amzn.to/2p7GtDf
[/two_third_last]
June 24
[one_third]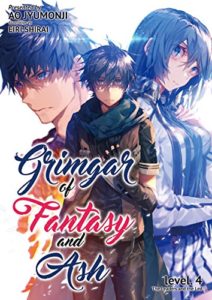 [/one_third]
[two_third_last]
Grimgar of Fantasy & Ash Volume 4 (eBook)
"Don't scare me like that, Moguzo."
"Sorry, sorry."
Moguzo let out an embarrassed laugh and scratched the back of his head. Still, he sure is bleeding a lot, Haruhiro thought. With all that blood, it's impossible to tell what kind of face he's making. But, well, it looks like he's fine somehow.
Haruhiro and his party reached the end of one major battle. However, with there being some comrades they couldn't save, they couldn't be entirely happy with how things were. Meanwhile, because they managed to accomplish more than anyone had expected, some members of the party receive offers from other teams wanting to poach them, too. As Haruhiro agonizes over what to do as a leader, he is forced to come to grips with what the party wants to do once again.
The story of adventure born from the ashes now enters a new stage!
Purchase – http://amzn.to/2pqHdmJ
[/two_third_last]
June 27
[one_third]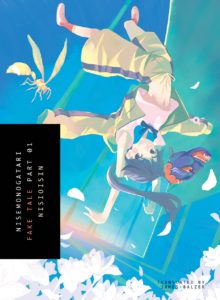 [/one_third]
[two_third_last]
NISEMONOGATARI, 1
(Vertical)
Unlike ne'er-do-well former vampire Araragi, his two younger sisters Karen and Tsukihi, who attend a private junior high, are little balls of energy and charisma that their peers look up to. That the "ka" in Karen and "hi" in Tsukihi are both written with the character for "fire" isn't the only reason they've come to be known as the Fire Sisters.
Karen is the brawn and Tsukihi the brains of a vigilantism that the pair sees not merely as defending justice but as justice itself. They can't encounter a harmful fad without trying to hunt down a specific source that had a motive for spreading it. In their big brother's humble opinion, there is something fake and precarious about it all.
In this first of two parts, the immediate sequel to the legendary BAKEMONOGATARI plunges us into the middle of summer vacation in the mostly peaceful rural town where the series is set. As our hero and narrator can say from experience, however, teenagers with too much free time on their hands can get stung pretty badly.
Purchase – http://amzn.to/2oBVecc
[/two_third_last]