Here are the Top 10 Light Novels in Japan for the week of February 26-March 4, 2018.
A number of new titles on the list this week, but the top of the list remains mostly unchanged.
#10
[one_third]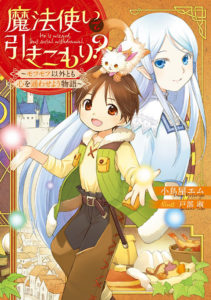 [/one_third]
[two_third_last]
Mahoutsukai de Hikikomori?
6,442 Copies Sold this week.
aka Shut-In Magician
https://www.novelupdates.com/series/shut-in-magician/
No English License
Amazon.co.jp does not list any other titles under this author – so appears to be a new writer.
What it's about…
An Ojii-san (old man) was reincarnated thanks to a kind Goddess. He wished for a 「healthy body」. However, for some reason he received the cheat ability to use powerful magic instead! Even so, he rarely used the ability.
When he ―― Shiu, turned 11, the Goddess appeared and informed him ――。"Become an adventurer and enjoy life." He went to the Royal Capital in order to become an adventurer, on his way there, he met a beast mount, Faris, who became his pet. From there he began his new life.
Shiu's world broadened little by little as he took on requests at the Guild and interacted with different people at the Royal Capital ――。 Shiu, the boy with a truly powerful ability, starts his easy going life in a fluffy different world!
[/two_third_last]
#09
[one_third]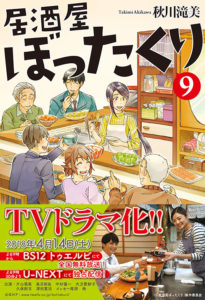 [/one_third]
[two_third_last]
Izakaya Bottakuri Vol.9
6,847 Copies Sold this week
aka Izakaya Rolling
No English License
What it's about…
Not much information on the series. However, the last time it placed in the Top 10, one of my viewers, viridiian said, "It's a bunch of short stories of two sisters taking over a bar after their parents pass away. Its' main draw is the whole fluffy/iyashikei with food, but there's also parts in later volumes dealing with stuff like the indoor smoking ban Japan has been considering recently, bad online reviews, a customer worried about care for their elderly parents etc."
[/two_third_last]
#08
[one_third]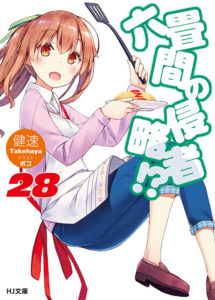 [/one_third]
[two_third_last]
Rokujouma no Shinryakusha!? Vol.28
6,849 Copies Sold this week.
aka Invaders of the Rokujouma
https://j-novel.club/s/invaders-of-the-rokujouma/
Licensed for English release by J-Novel Club. Up to Volume 10 has been released for eBook sale. On their website, they are releasing later volumes in installments.
The 12 episode anime is available on Crunchyroll & licensed by Sentai Filmworks. It covered volume 1-6 & part of 7
What it's about…
Just starting high school, Koutarou is moving out on his own to take some of the burden off of his widower father. Lucky for him, he's found a room at Corona House. It has a great landlord, it's not too far from school, and best of all, it's dirt cheap. It really is perfect… except for the strange girls that keep appearing to try and take it over! But even as room 106 turns into a battlefield, Koutarou isn't willing to give up his apartment without a good fight. The invasion begins!
Purchase Invaders of the Rokujouma from Amazon.com
[/two_third_last]
#07
[one_third]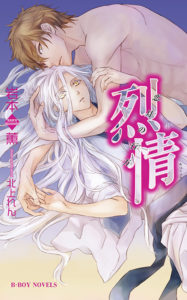 [/one_third]
[two_third_last]
Retsujou: Koizuki no Yukue
6,924 Copies Sold this week.
aka Fascination Love Moon's Way (Be Boy Novels)
No English License
What it's about… (Bad Google Translate Version)
People seeking a mistake of destiny, the highest dangerous Eros of the wolves. Popular 'estrus' series!
A witness of a wolf who has embraced the man 's mouth by his childhood friend, as if floating in the heat of estrus.
However, with a certain incident, Michiru turns into a white wolf.
Michiru who was supposed to be a normal human being was actually a wolf!
Michiru loses his memory and reason, before Mr. Nozomi, which is surprised, and he is moved by being driven by the instinct of a human wolf.
Furthermore, Oguini who protects people and wolf clans from ancient times has problematic as a dangerous molecule that can not control transformation ability …!
"I will not let you kill …. Even if I change it, I will absolutely protect you, because you are the only one of me."
[/two_third_last]
#06
[one_third]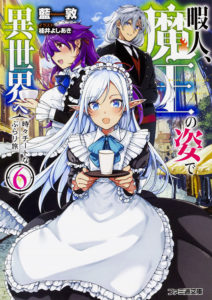 [/one_third]
[two_third_last]
Himajin, Maou no Sugata de Isekai e: Tokidoki Cheat na Burari Tabi Vol.6
7,197 Copies Sold this week.
aka Bored, Sacred, and Now a Devil
No English license for the light novel or manga
What it's About…
The day when the grandiose online game "Grandia seed" ceased service, Yoshijo, who alone defeated the main boss and received cheat grade abilities, wakes up in an unfamiliar place. He realizes he is in the form of his own character, Kaivon, wearing equipment that causes him to be mistaken as a devil. Then Yoshiro 's second character, a beautiful elf named Ruie, appeared before him. Naturally, he is puzzled, but decides to stay with her as Kaivon. But gradually he becomes aware … … I am being handed down as mythological hero in this world! Kaivon with the ability of single boss capture cheat classes crashes through the world in the form of the demon king!
[/two_third_last]
#05
[one_third]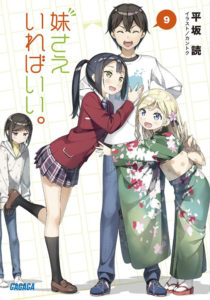 [/one_third]
[two_third_last]
Imouto sae Ireba Ii. Vol.9
8,607 Copies Sold this week.
aka A Sister's All You Need
https://www.novelupdates.com/series/imouto-sae-ireba-ii/
Licensed for release in English by Yen On. Volume 1 releases in May 2018
12 episode anime. Currently streaming on Crunchyroll. The anime covered volumes 1-3 with some material from volume 4
What it's about…
Surrounded by many different kinds of companions, our protagonist: Hopeless siscon Hashima Itsuki.
1st class genius and lover, the high end unfortunate-beauty Kani Nayuta.
Troubled about love, troubled about friendships, troubled even in her dreams, victor of the 3 crowns Shirakawa Miyako.
Brutal tax sabre, Ōno Ashley.
Natural born illustrator, Puriketsu.
Each and every one as hesitant as the next, and each and every one dealing with their own headaches. This is a busy story of a group of bewildering characters that play games together, take trips together, and work together, never a single dull day.
Watching over them is the kind and thoughtful, completely perfect, superhuman little brother of Itsuki; Chihiro, with a huge secret of his own―.
From the author that brought you 'Boku wa Tomodachi ga Sukunai' ('Haganai'), Hirasaka Yomi has drawn the curtains for the latest youth love-comedy series!
[/two_third_last]
#04
[one_third]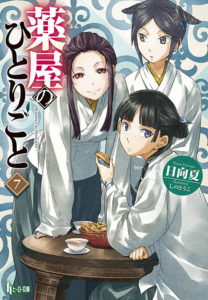 [/one_third]
[two_third_last]
Kusuriya no Hitorigoto Vol.7
10,897 Copies Sold this week.
aka The Pharmacist's Monologue
https://www.novelupdates.com/series/kusuriya-no-hitorigoto/
No English license.
What it's about…
There is a certain large country in the central plains of the mainland. In the imperial court of its emperor, there is a girl. Her name is Maomao, a pharmacist from the prostitution quarter, currently working as a maidservant in the inner palace. The girl, surely not considered a beauty, is keeping a low-profile waiting for her contract to end. She was confident that she would not be made a "chosen/mistress" of the emperor. During that, she learned about the short lives of the children of the emperor. Maomao, hearing that the two surviving children are critically ill, begins to investigate the cause—.
Set in the middle ages of the East, the "Food Taster" girl continues to solve difficult cases in the imperial court one after another.
[/two_third_last]
#03
[one_third]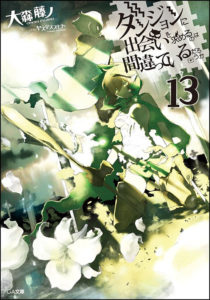 [/one_third]
[two_third_last]
Dungeon ni Deai wo Motomeru no wa Machigatteiru Darou ka Vol.13 Regular Edition
12,327 Copies Sold this week.
aka Is It Wrong to Try to Pick-Up Girls in a Dungeon?
https://www.novelupdates.com/series/dungeon-ni-deai-o-motomeru-no-wa-machigatte-iru-darou-ka/
Licensed for English release by Yen On. Volume 11 releases in English in April
13 episode anime covered volumes 1-5. Streaming on Crunchyroll
What it's about…
In Orario, fearless adventurers band together in search of fame and fortune within the monstrous underground labyrinth known as Dungeon.
But while riches and renown are incentive enough for most, Bell Cranel, would-be hero extraordinaire, has bigger plans.
He wants to pick up girls.
Is it wrong to face the perils of Dungeon alone, in a single-member guild blessed by a failed goddess? Maybe. Is it wrong to dream of playing hero to hapless maidens in Dungeon? Maybe not. After one misguided adventure, Bell quickly discovers that anything can happen in the labyrinth–even chance encounters with beautiful women. The only problem? He's the one who winds up the damsel in distress!
[/two_third_last]
#02
[one_third]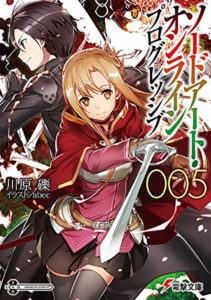 [/one_third]
[two_third_last]
Sword Art Online: Progressive Vol.5
15,564 Copies Sold this week.
Licensed for English release by Yen On
Previous 4 volumes already available in English
https://www.novelupdates.com/series/sword-art-online-progressive/
Anime used some material from Progressive Volume 1 for the Aincrad arc.
What it's about…
"There's no way to beat this game. The only difference is when and where you die…"
One month has passed since Akihiko Kayaba's deadly game began, and the body count continues to rise. Two thousand players are already dead.
Kirito and Asuna are two very different people, but they both desire to fight alone. Nonetheless, they find themselves drawn together to face challenges from both within and without. Given that the entire virtual world they now live in has been created as a deathtrap, the surviving players of Sword Art Online are starting to get desperate, and desperation makes them dangerous to loners like Kirito and Asuna. As it becomes clear that solitude equals suicide, will the two be able to overcome their differences to find the strength to believe in each other, and in so doing survive?
Sword Art Online: Progressive is a new version of the Sword Art Online tale that starts at the beginning of Kirito and Asuna's epic adventure–on the very first level of the deadly world of Aincrad!
[/two_third_last]
#01
[one_third]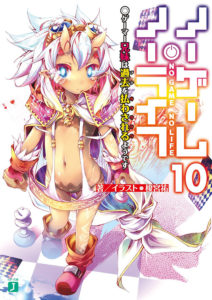 [/one_third]
[two_third_last]
No Game No Life Vol.10
38,402 Copies Sold this week.

Licensed for release in English by Yen On. Volume 7 releases in English June 2018
12 Episode anime available to stream on Crunchyroll. Covered volumes 1-3.
No Game No Life Zero film – released July 2017, covered volume 6.
What it's about…
Meet Sora and Shiro, a brother and sister who are loser shut-ins by normal standards. But these siblings don't play by the rules of the "crappy game" that is average society. In the world of gaming, this genius pair reigns supreme, their invincible avatar so famous that it's the stuff of urban legend. So when a young boy calling himself God summons the siblings to a fantastic alternate world where war is forbidden and all conflicts–even those involving national borders–are decided by the outcome of games, Sora and Shiro have pretty much hit the jackpot. But they soon learn that in this world, humanity, cornered and outnumbered by other species, survives within the confines of one city. Will Sora and Shiro, two failures at life, turn out to be the saviors of mankind? Let the games begin…
[/two_third_last]
So those are your Top 10 Light Novels for February 26-March 4, 2018. See you next week!