The first draft is complete.
The first read through and edits are done.
The book is being sent out to my three beta readers tomorrow.
Yes, we're progressing nicely to seeing this one released in July. I'm very happy with it. I hope you all enjoy it as well.
Talk to you soon,
JR
PS, Here's the official book description…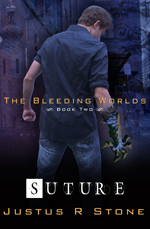 Suture. An organization created by immortals who once walked the Earth as Gods. A place containing eras worth of secret agendas.
Gwynn joins believing he will learn about his abilities, assisting to protect the world from the Veil.
Instead, he finds an ancient evil stalking him. A face from his past shows up in an unexpected place. And ghosts that prove to be very much alive.
Faith, friendship, family. All are tested within Suture.
Book Two of The Bleeding Worlds Series