The other day, Harbinger, Book One of my The Bleeding Worlds series, hit #1 on the Amazon Action & Adventure Manga list. Nearly six years after its publication, I can call it an "Amazon Best Seller."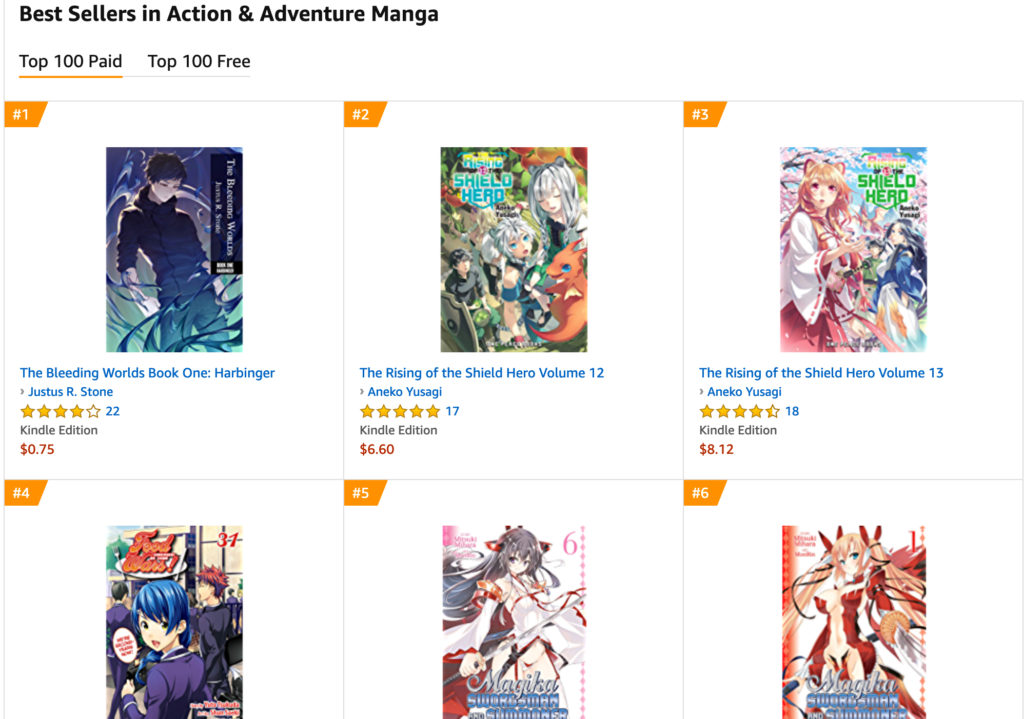 Before I dive further into this, I need to say a massive thanks to my cover artist, Starbottle. Because of her amazing art, I've been able to finally market The Bleeding Worlds to its intended audience.
When I started Harbinger, I knew how much anime was influencing the story, but at the time, light novels weren't a big thing. So my initial thought was to market the book to a Young Adult audience. Hence the original covers of the series were set up to mimic YA titles. Admittedly, I did those covers on the cheap, using free stock imagery, photos my wife took, and the collective Photoshop knowledge of both myself and my wife. I thought the covers were good, but I always wanted them to be what they are today. But would there be an audience?
Flash forward these years later and light novels are now a staple of several publishing companies. Even manga and anime fans are becoming increasingly aware of light novels and the influence they have on those other media. So it felt like the right time to bite the bullet, hire an artist, and make the covers of The Bleeding Worlds what I had always wanted.
But Harbinger didn't just magically end up on the Best Seller list because it had amazing new art (though I think the art is good enough that it could!). It took some effort.
And money.
First off, I dropped the price of Harbinger to $0.99. In terms of income per unit sold, I make about $0.30 per copy.
Secondly, I started running Amazon Marketing Service (AMS) ads. The initial budget for the ad was $3.00 a day. Over the month-and-a-half it's been running, the daily budget has increased to $8.00. I've also spent numerous hours tweaking keywords, bids, and more.
Third, I rewrote the book description for Harbinger. Numerous times. And like an idiot, I made each iteration live. Then decided I wasn't happy a few days later, and rewrote it again. Based on the success of hitting the top of the list, I think I'm finally good with the current description. Funny thing is, it's probably not the most "writerly" description I created, but it is the closest in terms of fitting the typical pattern seen in other light novel and manga titles.
Finally, I dropped the price of volumes 3-4 from $3.99 to $2.99.
Over the month-and-a-half the ad has run, I have seen an increase in sales on all volumes of The Bleeding Worlds. And between the ad spending and price decreases, I think I made about $13.00 for that whole time.
Yup. Best Seller. $13.00. To be honest, if I hadn't sold any copies of the other books, I would've been in the hole.
The truth of being a Best Seller is that you don't need to sell that many copies depending on the category you're in. Nor will you make a ton of money.
It makes the experience a little bittersweet.
I'm thrilled. Don't get me wrong. I'm so happy Harbinger is doing well. And even happier that people seem to be moving on to check out the later volumes as well. Particularly because I think the later volumes are better than Harbinger 😉
What makes it bittersweet is that I'm typing this on a break, while doing overtime at a job I don't like, because my standard pay isn't enough to pay the bills. And as I just showed above, clearly The Bleeding Worlds isn't going to make me a rich man anytime soon. Despite being a "Best Seller."
I suppose I've made the tone of this kind of somber. Sorry. I really was happy to see that orange "#1 Best Seller" tag on Harbinger. And I have every intention to keep pursuing it for Harbinger and any other projects I have in the future (and yes, there is a new project underway).
So let's end this on a sweeter note, the massive outpouring of support and kindness I received on Twitter when I tweeted out Harbinger's #1 status. Despite all the crap in this world, it is filled with wonderful people who took some time out of their day to say something nice to a guy most only know digitally.
I said it on Twitter, but I'll say it here as well, thank you all. It means so much to me.
So there it is, the emotional ups and downs of being a Best Seller. Despite there being a touch of bitterness, I'd consider myself lucky to have it happen again.